The Winary

We are the history of Parma wine
"Cantine Dall'Asta – Il Cortile del Castello" are the oldest winery in Parma, they started in 1910 with the classics "Lambrusco and Fortana", to continue with the "Vini dei Colli".
For some years the ownership and management has passed to the Piccoli Family, with Manuel and Matteo, they gave continuity to the historical Family tradition, who since their grandfather Artemio Piccoli has always invested with passion and diligence in agriculture, farming and food production and in the quality food chain in Parma.
Once the historic headquarters in Parma and that of the family business are united, they have created a "unique" production of high quality in Casatico di Torrechiara.
Located in a position of spectacular beauty, "Cantine Dall'Asta – Il Cortile del Castello" farm dominates the castle of Torrechiara of which it was the main dependence, hence the name "Cortile" = Court.
Born around the nucleus of an ancient watchtower that pre-existed the castle, in addition to the semi-underground cellars of the 1500s intended for the aging of sparkling wine, it has renovated and built new high-tech rooms.
THE WINERY AND THE VINEYARD
The winery not only keep the wines, but is like a book that tells our story: in the oldest part - from the 1500s - the sparkling wine ages while the wine in the barriques evolves with the slow variation of temperatures and seasons; the ancient and spectacular "di Plinio" press from 1600, master of many harvests, was for us like a winemaking school ship; it is still visible in the small company museum.
The new technological winery preserves the aromas and integrity of our wines: a true "renewal in the wake of tradition".
The ideal exposure of the clayey-limestone soil, the height from 300 to 400 meters, the presence of hedges, woods, meadows, the valley of the Parma stream, the high mountains behind which overlook the sea, constitute an ideal microclimate for the cultivation of vines which here has ancient roots: the old name of the castle was in fact "Torchiara".
A great wine is already born in the vineyard: this is why we cultivate our vineyards with ecological sensitivity, we harvest our grapes by hand, to obtain wines that are the maximum expression of the Parma land.
Parma and its territory is recognized in the world as the capital of good food called as "Food Quality Valley" so we can safely say:
"Cantine Dall'Asta di Torrechiara" means:
Emotions, History, Passion in the land of food… A unique place in the world to feel good !
eventi in agriturismo
Degustazioni, visite guidate, appuntamenti wellness, team building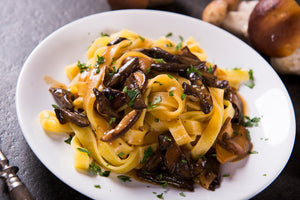 FUNGHI CHE PASSIONE !!!
28-29 ottobre
Appuntamento con gli ingredienti principi dell'autunno: i funghi, dai porcini ai finferli, declinati in piatti irrinunciabili all'Agriturismo cantine Dall'Asta. Guarda il menù
Learn more